Why the Catechisms?
An Ambrose Parent Education article by Carl Warmouth, Dean of the Grammar School
Recently I introduced you all to the idea of integration, and explained that in the grammar school we have a theme for each grade that is the primary focus for the year. Before I get into each of those themes, I would like to tell you about some support tools we use to help teach those themes, starting with catechisms.
Isn't that a Catholic thing?
Many modern Christians are only familiar with catechisms because of their association with the Roman Catholic Church, but catechisms are actually at the heart of the Protestant faith. In fact, an argument can be made that a form of catechesis was used by the apostles way back in the New Testament church. At their heart, catechisms give language to the Christian faith through a series of questions and answers that address questions about theology. Commonly used catechisms in Protestant churches (dating back to 1545) include The Short Catechism, the Geneva Catechism, the Heidelberg Catechism, the Westminster Shorter Catechism, Luther's Small Catechism, The Baptist Catechism of 1689, the Catechism for Young Children, and recently The New City Catechism.
How does Ambrose use them?
We wrote our own Grammar School Catechism designed to ask and answer questions about the grade level themes as well as the basic tenets of Christianity. Students memorize them throughout the school year to help them understand how their subjects relate to their theme and to reinforce the Gospel message. Each question and answer is supported (or proven) by scripture that the students learn throughout the year. Students and teachers frequently refer back to the catechisms as they work through the various subjects.
Partnering with parents
Want a classical Christian education for yourself? It's never too late to learn. There are tons of things we do at this school that are designed to be replicated in the home. Reciting these as a family before dinner or at bedtime could become a meaningful tradition with generational benefits!
---
Carl Warmouth, Grammar School Dean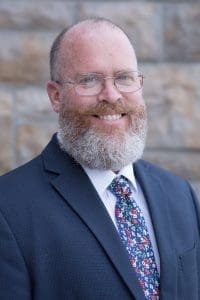 Carl is the Grammar School Dean for our 5-day program. He was the headmaster at Trinity Christian School in Opelika, Alabama before coming to The Ambrose School in 2014.
"I first became convicted of the value of classical Christian education in 1999 after my wife began teaching at a classical Christian school and we enrolled our oldest child there. After reading Recovering the Lost Tools of Learning, Excused Absence, and The Paideia of God by Doug Wilson, I sensed God calling me to be involved in a greater way. After considerable time spent seeking God, I made a career change and was hired as the upper school principal at Trinity Christian School. The following year I was asked to serve as headmaster. My two children both received a K-12 classical Christian education. My son graduated from Ambrose in 2017 and my daughter continued her classical Christian education at New Saint Andrews College in Moscow, Idaho. My wife has been a grammar school teacher now for more than 18 years. I believe deeply in the vision and mission of The Ambrose School, and am honored to be a part of it.
My previous experience includes nine years in the resort industry and 10 years in child and family counseling as the Therapeutic Program Director at a residential treatment center for emotionally disturbed children. I love the people and culture of the Treasure Valley and the opportunities for outdoor adventure."