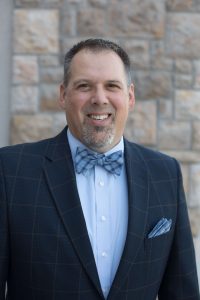 Mr. Wade Ortego

Head of School
B.S., Business, Bryan College in Dayton, Tennessee; M.Ed., Abilene Christian University.
As a leader in classical Christian schools, my great passion is to assist families in the education of their children toward a Biblical worldview that acknowledges Christ as the author and perfecter of the Christian faith. I am committed to the classical Christian model of education and enjoy introducing families to its many benefits. I put a strong emphasis on maintaining and building a student culture.
I was most recently Headmaster of the Classical Christian Academy in Post Falls, Idaho. Prior to that, I led the Classical School of Wichita in Kansas.
My wife, Rachel, and I have been married for 23 years and have three boys: Matthew, age 17; Elijah, 16; and Jedidiah, 5.
Church Affiliation: The King's Congregation, Meridian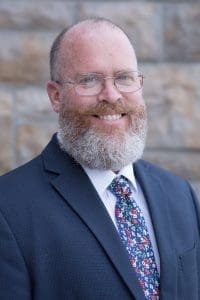 Mr. Carl Warmouth

Dean of Grammar School
B.S., Psychology, Tennessee Wesleyan University. Former Headmaster at Trinity Christian School in Opelika, Alabama before coming to The Ambrose School in 2014.

I first became convicted of the value of classical Christian education in 1999 after my wife began teaching at a classical Christian school and we enrolled our oldest child there. After reading Recovering the Lost Tools of Learning, Excused Absence, and The Paideia of God by Doug Wilson, I sensed God calling me to be involved in a greater way. After considerable time spent seeking God, I made a career change and was hired as the upper school principal at Trinity Christian School. The following year I was asked to serve as headmaster. My two children both received a K-12 classical Christian education. My son graduated from Ambrose in 2017 and my daughter continued her classical Christian education at New Saint Andrews College in Moscow, Idaho. My wife has been a grammar school teacher now for more than 18 years. I believe deeply in the vision and mission of The Ambrose School, and am honored to be a part of it.

My previous experience includes nine years in the resort industry and 10 years in child and family counseling as the Therapeutic Program Director at a residential treatment center for emotionally disturbed children. I love the people and culture of the Treasure Valley and the opportunities for outdoor adventure.

Church Affiliation: The King's Congregation,  Meridian
Dr. Heather Jennings

Academic Dean
Ph.D. in English literature, University of California Davis; M.A. in English literature, Boise State University; B.A. in government, Patrick Henry College.

My engagement with classical Christian education spans nearly twenty years, from taking courses on the literature and history of Greece and Rome in high school from Andrew Kern, a leading thinker and teacher in the cCe movement; to teaching 5th then 12th grades at The Ambrose School; to writing my dissertation on habits of learning in medieval England. I appreciate how classical Christian education situates learning as an expression of loving God with all our minds, equips students to be life-long learners by approaching education not simply as dispensing information but as the formation of habits, teaches students to make connections among all subjects they study, and prepares students to be culture-makers by engaging with the art and ideas that have shaped our world.

I grew up in Boise, Idaho, and spent the past six and a half years in the Sacramento and beautiful San Francisco Bay areas, pursuing my doctorate and teaching at the University of California Davis and Sonoma State University. My husband Brian and I have two preschool aged daughters; we love to read and discuss what we've read, entertain, do CrossFit, and spend time in beautiful surroundings by camping, mountain biking, hiking, and traveling.
Church Affiliation: Holy Trinity Anglican Church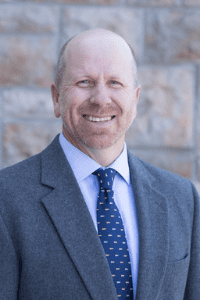 Mr. Kelly Barbour
Chief Operations Officer
Athletics Director
B.S., History, Political Science, Classics (minor), College of Idaho; J.D., University of Virginia School of Law

I have been involved in coaching and mentoring for most of my life. Starting with teaching Sunday School as a 9th grader, I went on to coach high school baseball and serve as a youth and young adult leader while in college. I have coached youth sports for the last 27 years. From 2014 – 2017, I had the privilege of serving as the radio analyst for football broadcasts for my alma mater, the College of Idaho.

I was raised in a home that valued literature and scripture and I was exposed to a wide variety of educational environments and philosophies over the years (one-room schoolhouse, home school, private Christian school, public school, classical studies in college, law school). With that backdrop, I discovered the classical Christian world just in time to enroll my son Wyatt, and later, my second son, James, at The Ambrose School.

After serving on the Ambrose Board of Directors for several years and being exposed to the beauty of and need for classical Christian education in our world, I left behind 17+ years of private law practice and hospital administration and joined the staff of the Ambrose School in April, 2019. I serve as the Chief Operating Officer, Dean of Students, House Governor, and Varsity Girls Basketball coach. My wife, Jennifer, teaches at the Ambrose Bridge Program. We are still celebrating Virginia's first NCAA basketball championship – and expect to continue doing so for the foreseeable future!

Church Affiliation: Faith Community Bible Church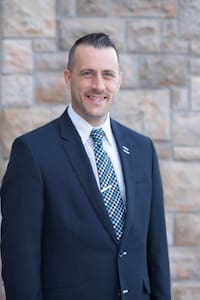 Mr. Joe Gerber

Dean of Upper School
B.A., History, Boise State University; B.B.S., Biblical Studies, Calvary Chapel Bible College; Masters Social Work, Northwest Nazarene University. I started teaching at The Ambrose School in 2013.

I chose to teach at The Ambrose School because of the profound focus that Ambrose places on teaching the students to love that which is good, beautiful, and true. At The Ambrose School, there is an appreciation for embodied practices meant to move one's worship toward God. Discipleship involves not only the information provided to another soul but also the proper formation of that soul through the development of a student's affections. This focus at The Ambrose School is especially suited to the joy that I receive not only in learning but also in growing in my relationship with Christ in a community of like-minded believers. My philosophy of teaching is that learning to love God is not mutually exclusive of learning about God's wonderful creation. To love God is to love to learn because God made all things to say something very important about Himself. The more we discover truth, the more our hearts will be transformed into the source of all truth, God.

I am married to my amazing wife, Janice. We have four sons and love living in the Boise area because we both grew up here and being close to family and friends is very important to us.

Church Affiliation: Ruling Elder, All Saints Presbyterian Church
Mrs. Mandi Moore

Dean of Bridge Program
B.S. Multi-Disciplinary Science, Texas Tech University – College of Education; Texas Educator Certification – Secondary Science Composite (Grades 6-12); M.A. Physical Therapy, Texas Tech University Health Sciences Center

While prayerfully researching education options for our oldest child, my husband, Tim, and I became convinced that classical Christian education was the most effective method for raising our children to love the Lord whole-heartedly, think deeply from a Biblical worldview, discern truth, effectively communicate the gospel, and deeply influence the world. This conviction led us to serve on the founding board of Cross Classical Academy (CCA), the first of its kind in the Heart of Texas region, in order to make Classical Christian Education available to families of our community.

Our daughter and son attended CCA and I served as Administrator from 2010 through 2015, when my husband accepted a cardiology position at St. Alphonsus and we relocated to Idaho. Our family is grateful for the opportunity to continue our journey in classical Christian education at The Ambrose School, where we are deeply committed to the school's mission and are daily blessed by the community of exceptional staff and families. I am excited to participate in the work to extend Ambrose to more families in southern Idaho through the new Bridge Program, a model that combines the best of Christian Classical education with the best aspects of home schooling.

As native Texans, it has been a delight to experience the many activities Idaho has to offer. From spending time outdoors hiking, mountain biking, running, rafting, snowmobiling, and skiing to savoring restaurants and fine arts productions downtown, our family ENJOYS Boise life and the amazing people who call it home.

Affiliations: All Saints Presbyterian Church, Boise Cross Classical Academy – Board President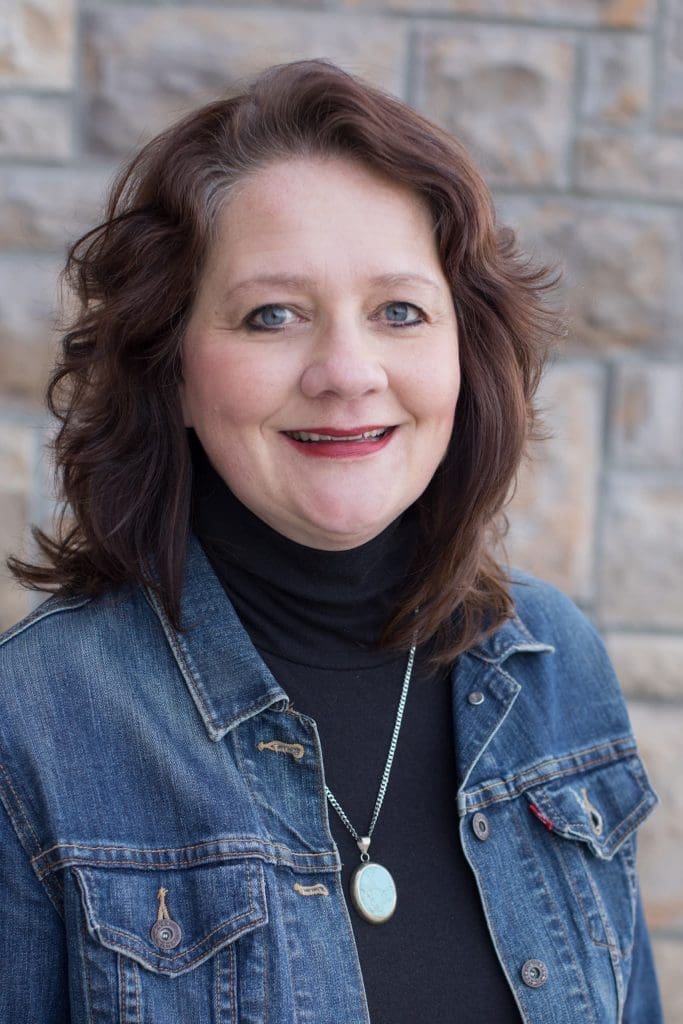 Mrs. Amy Yenor

Events Director
B.A., Business Communication, University of Wisconsin-Eau Claire.

I grew up in Wisconsin, met my husband at college and when we graduated we moved to Chicago so he could attend graduate school. During that time Target entered the Chicago market. I was involved with opening new stores and making sure the stores were staffed.

Our oldest child started kindergarten at The Ambrose School. We now have two graduates and three children enrolled at the school.

The Ambrose community is our family here in Boise and we have been blessed to be involved. Besides being the school's athletic director, I coordinate the major events at the school including Feed the Need, Christmas program, annual auction, and various other events.

Church Affiliation: Good Shepherd Lutheran Church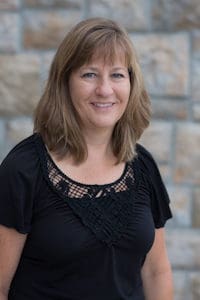 Mrs. Debbie Skinner

Bookkeeper
B.S., Information Systems, University of Colorado

I started working at The Ambrose School in the fall of 2005. After helping in the classroom with anything from lunch duty to substitute teaching, I was confident I wanted to work at a place that is making an impact in our world. Working close to my children was a bonus. I started as the headmaster's assistant working on special projects, eventually taking on additional duties as bookkeeper.

My husband and I chose a classical Christian education for our children not only for the rigorous educational experience but also because God's word is interwoven throughout every subject. The Ambrose School guides students to live for God in all areas of their lives.

All three of my children graduated from The Ambrose School, attending from kindergarten through 12th grade.

Church Affiliation: Rock Harbor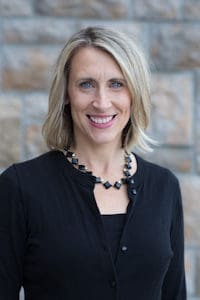 Mrs. Michele Vernon

Admissions & Development Director
I began working at The Ambrose School in January 2015 when my two boys were in 4th and 7th grade. We were already part of the school family since my oldest started kindergarten at The Ambrose School, formerly Foundations Academy, in 2007. From the first time my husband and I visited the school, we knew this was the place for our kids. We love the classical Christian education and my boys are challenged academically and spiritually by teachers who love them and care about their character. As the administrative assistant, I am truly blessed to be able to work at the school where my boys attend.

My family loves the Idaho outdoors. We love water sports and to explore the Boise foothills on our mountain bikes.

Church Affiliation: Calvary Boise
Mrs. Ellen Baumann

Librarian and Testing Coordinator
B.A., Anthropology, The University of Texas at Austin; JD, Southern Methodist University (Dedman) School of Law, Dallas, TX

This is my third year as librarian. I have several years of experience classically homeschooling on both a full-time and part-time/collaborative basis, and am trained as a childbirth educator. My vision is to assist students and adults alike as we all grow in knowledge, understanding, and wisdom. As part of that, I hope to teach students life-long research and library skills.

My husband, David, and our family moved here from Texas in 2009, and we have four boys at The Ambrose School. The older boys previously attended a classical Christian school in the Dallas area; having a school like Ambrose near Boise was one of the factors which influenced us to relocate here. We love living in the Treasure Valley, especially the mild winters, the cool[er] summers, and the beautiful surroundings.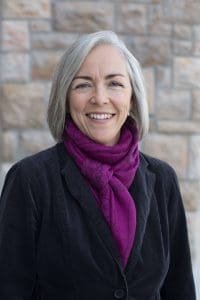 Mrs. Molly Blakeman

Publications and Communications Manager
I have worked for a variety of organizations managing advertising, communications, and PR. I switched careers to be a full-time mom, which then grew into being a homeschooling mom for 10 years. I had followed the growth of The Ambrose School since it first began, and after a time, saw a need in my children's lives for not just the academic challenge, but the opportunity to participate in a loving, Christ-centered community. The education at Ambrose is secondary to the character training that happens through the tremendous, sacrificial love that the teachers and administrators here show the students and families. They are concerned about their hearts, not just their minds.

I am married to the best graphic designer in Boise and we have four lovely girls. We all like to go on adventures around Boise, which can mean a hike in the foothills or trying out the newest restaurant.

Church Affiliation: The King's Congregation
Click any link below to view staff