Thank you for your interest in The Ambrose School! While we are still accepting applications for the 2021-22 school year, we will not be processing any new applications until after April 19th. You are welcome to apply and we will follow up at that time.
Welcome to The Ambrose School!
We understand that decisions about where and how to educate your child are among the most important you will make as a parent. The Ambrose School is committed to the principle that education is a partnership with parents.
We offer a Christian education with a classical approach designed to create passionate learners who pursue truth, beauty, and goodness in all endeavors. Our curriculum acknowledges Christ ruling over all things and is at the core of what we teach. Our dedicated teachers love their subjects and their students, and are intentional about educating the whole person made in the image of God.
We invite you to get to know more about us! I will be happy to answer questions, provide further reading material, or set up a tour for you and your child.
In the meantime, be sure to take our online tour (below) and read more on our website about our community and the unique advantages of classical Christian education. I look forward to sharing more with you and helping you navigate the admissions process.
Angela Johnson
Admissions Director
admissions@theambroseschool.org
K-6 Student Admission Requirements
A child must have reached the age of five years by the first day of school in the year in which he would be entering kindergarten; six years of age by the first day of school for entrance into the first grade.
If a child has successfully completed the previous school year and his schoolwork and behavior compare favorably to The Ambrose School's standards, he will be placed in the grade for which he is applying. However, if there is evidence that the child may not be adequately prepared for the next sequential grade level, he may be required to repeat the previous grade.
The student should understand that his parents have delegated their authority to the school during the school day. Therefore, the child is subject to the instruction and discipline of the teacher and the Head of School in their prescribed roles at The Ambrose School.
The Ambrose School does not discriminate on the basis of race, color, or national or ethnic origin in the administration of its admissions, scholarships, hiring, or other school-directed policies.
7-12 Student Admission Requirements
Transfer students are required to provide transcripts and standardized testing results from their previous school sometime after they have applied, but before the family interview.
If a child has demonstrated academic strength in his or her previous school year and his or her schoolwork and behavior compares favorably to The Ambrose School's standards, he will be placed in the grade for which he is applying.
Student acceptance will be based upon a student interview, parent interview, and the student's academic ability.
The Ambrose School does not discriminate on the basis of race, color, or national or ethnic origin in the administration of its admissions, scholarships, hiring, or other school-directed policies.
Parent Requirements
Parents should have a clear understanding of the biblical philosophy and purpose of The Ambrose School. This understanding includes a willingness to have their child exposed to the clear teaching of the school's Statement of Faith in various and frequent ways within the school's program.
Parents should have a clear understanding of our unique classical educational approach. Parents should carefully read the informational materials about the school. We also strongly encourage each parent to read the book by Douglas Wilson, "Recovering the Lost Tools of Learning," as one of the best texts for explaining the kind of program we offer at The Ambrose School.
Parents are required to cooperate with all the written policies of The Ambrose School. This is especially important in the area of discipline and schoolwork standards, as well as active communication with the respective teachers and administration. In addition, parents are strongly encouraged to become active volunteers in other areas of the school.
Please contact our Admissions Director at admissions@theambroseschool.org or submit an inquiry by clicking on the box below.
Steps to Admission
Request information or sign up for a tour. For specific questions, email admissions@theambroseschool.org or call (208) 323-3888.

Apply: Complete our online application and submit the application fee.

Records: For students above the 2nd grade, copies of standardized test scores and academic records (report cards or transcripts) are requested prior to student testing.

Parent interview: This typically takes 45 minutes to an hour and is designed for just the parents. Children are welcome to attend if no childcare can be provided.

Testing: This typically takes 30 – 60 minutes for grammar school, and sometimes longer in the upper school. This is usually done after 2:30 PM when school is no longer in session. We will call you to schedule this.

Notification: During the open enrollment period, families are held for admission until the final deadline. Within two weeks of the deadline, all families will be notified of their acceptance/rejection.
Considerations for new family acceptance:
An active family faith that aligns with our Statement of Faith.

An understanding of classical Christian education.

Family support.

A student's test results.

For older students, their contribution to our school community.
None of these are "litmus tests." Rather, we consider all factors when admitting a new student.
Attending The Ambrose School is a privilege. Students and families are enrolled at the direction of the Administration and Board. We reserve the right to refuse admission or continued enrollment to anyone.
Important Dates
January 1 through March 15:
Priority Enrollment for new students who will attend during the next school year. New families are encouraged to enroll during this time period in order to get the best chance for acceptance. 

Applications received during Priority Enrollment are considered as a group in mid-April. 
After March 15th:
Open Enrollment

Any student application received after March 15th is considered, subject to our acceptance criteria, for admission in any remaining openings.
Applications during the school year:
Due to our unique curriculum and high standards, the later in the year students apply for admission, the more difficult it becomes for students to succeed. Grammar school students generally can succeed if they enter during the first semester (before January 1st). We consider applications during any time of the year. High school students must generally be enrolled during the first four weeks of the semester, but can, on occasion, be enrolled mid-year.
Applications after the second week of September of the student's Junior year:
We do not allow new students entering after this time to graduate from The Ambrose School unless they were previously enrolled at a classical Christian school. We can allow students to complete the coursework, but they will not graduate.
Re-enrollment of current families
Students that do not re-enroll by the end of February are considered new families for the purpose of enrollment priority, fees, and waiting lists. The following priority extends ONLY to students whose applications are received during this period:
Priority for available seats:
Continuing students

Siblings of continuing students

All other applicants
Your child's education will help shape who they become.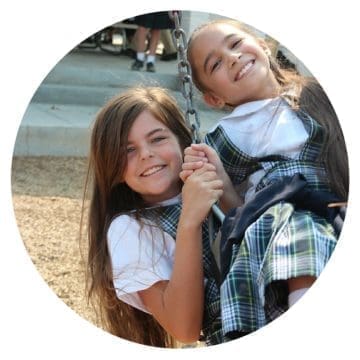 Please consider the lifelong value your child will receive at The Ambrose School. We realize you have many educational options, and we work diligently to keep our costs as low as possible.
Payment plans help fit tuition into your budget.
We provide an interest-free payment plan to help families budget tuition into their monthly expenses. Tuition for the year can be paid in one payment to receive a discount, in 10 monthly payments July – April or 12 monthly payments June – May.