At The Ambrose School, our mission is to mature students in Christ as we integrate faith and reason through classical Christian education. To fulfill this mission, we have set six goals for our students and designed our K-12 course of study around these goals.
Virtue and mature character
Sound reason and sound faith
A masterful command of language
Well-rounded competence
Literacy with a broad exposure to great books
An established aesthetic
What makes an Ambrose education unique ?
An education aimed at paideia. Paideia was the word the Greeks used to describe the formation of a whole human being–instruction in the liberal arts, training of the body, and the formation of character. At The Ambrose School, our aim is not merely job preparation or test-taking intelligence, but to shape the whole person–body, mind, and soul–for the glory of Christ and his kingdom.
An education conducted in submission to Scripture and aimed at developing a Christian worldview. We want our students to recognize that all that is good, beautiful, and true in the world finds its source in God. Students consider the ideas and beliefs they encounter in light of the truth of Scripture. We desire to submit ourselves in all things to Jesus Christ.
An education attuned to the three stages of learning–grammar, logic, and rhetoric. 
In our Grammar School, we build a foundation for future learning through children's love of story and the ease with which they memorize. Grammar students memorize songs, chants, and rhymes, Scripture verses, and information from all subjects.
Students in our School of Logic are asking "why" questions in earnest. We harness this tendency by training students in the basics of logic and through Socratic discussion in the classroom.
Students in our School of Rhetoric practice articulating their own ideas winsomely and persuasively. This happens in every class through Socratic discussion, class presentations, written papers, and speeches. Students' education culminates in thesis projects
An education where history is valued. As Christians, we know that God works throughout human history. We value the past for its witness to God's character, for its wisdom, and as important for understanding who we are today. Our entire curriculum rotates through the history of the world three times from 2nd through 12th grades.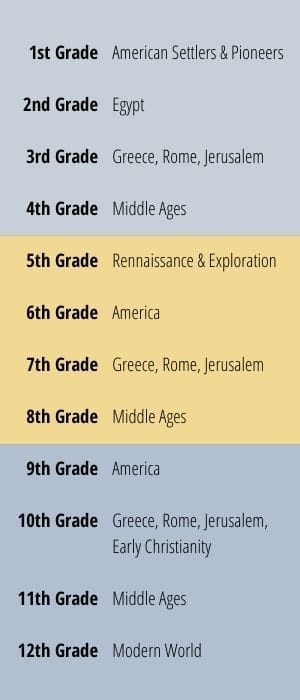 An education rooted in the wisdom of great thinkers and writers. While older is not always better, we honor the preserved, collective intellectual energy of entire civilizations as a body of wisdom to be respected. Our students read the great books of our intellectual tradition to learn from the great thinkers of the past. Through Socratic discussion students enter into conversation with these thinkers, evaluating ideas in light of Scripture and considering how those ideas can inform our living today.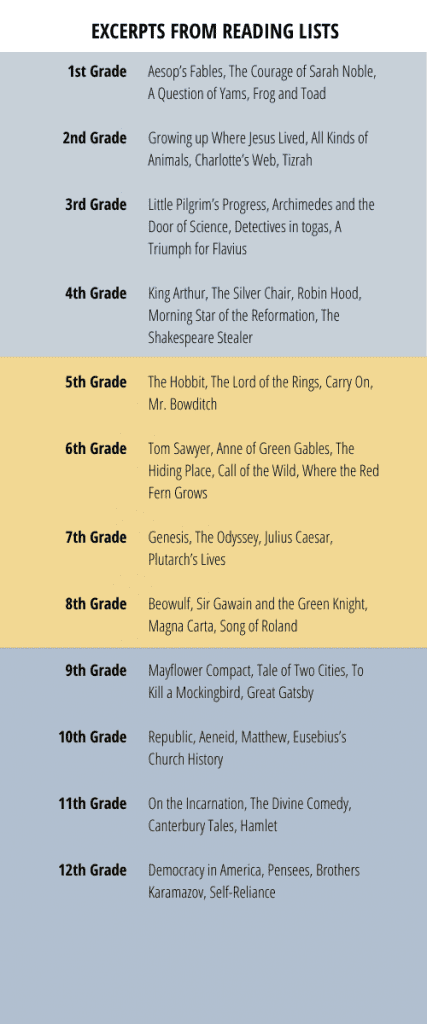 An education where subjects are integrated. School classes are divided into specific subjects–math, literature, art, etc.–but reality is complicated and unified in a way these subject divisions don't acknowledge. To help our students understand truth that cuts across subject divisions, we encourage integration as often as possible. Through our integrated humanities classes, students consider how the art, history, literature, theology, philosophy and scientific discoveries of a time period all affect one another.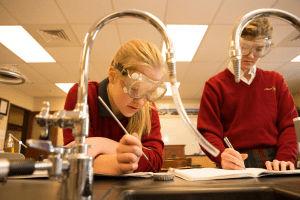 Our science program goal is to cultivate students who will love the Lord first and foremost while gaining an appreciation of the work of the Great Artist. We want students to be scientifically literate with the ability to evaluate scientific content objectively and critically. Using the tenets of classical education blended with modern laboratory practices and methodologies, we strive to develop science proficiency and appreciation.
In the 9th-12th grades, your student will study biology, chemistry, and physics, and have the option to take human bio. Science courses in the Grammar School and School of Logic foster curiosity and appreciation for the beauty and complexity of the world around us through hands-on experiments, observation notebooks, and lab work.
Our math curriculum promotes integration of logic to understand the conceptual development of mathematical ideas, preparing students to thrive in mathematics. All students study Algebra I, geometry, Algebra II, and trigonometry. We also provide precalculus and Calculus I, both of which can be taken for college credit through our concurrent credit program.
Ambrose students can earn up to 43 college credits through the concurrent credit courses we offer in conjunction with Northwest Nazarene University and Colorado Christian University.
Chemistry (4 credits with Northwest Nazarene University)
Human Biology (4 credits with Northwest Nazarene University)
Calculus (4 credits with Northwest Nazarene University)
Pre-calculus (6 credits with Northwest Nazarene University)
Humane Letters III (6 credits with Colorado Christian University)
Humane letters IV (6 credits with Colorado Christian University)
Humane Letters V (6 credits with Colorado Christian University)
Rhetoric I (3 credits, Colorado Christian University)
Summa Civitas (3 credits with Colorado Christian University)
Choir (1 credit with Colorado Christian University)
Fine Arts and Applied Arts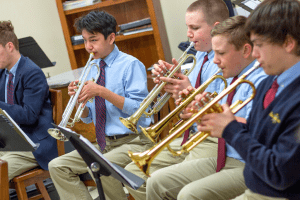 All Ambrose grammar school students take art and music. Our music instruction follows the Kodaly method, in which children are taught foundational concepts of music through folk song, rhythm, listening, games, and movement.
7th and 8th graders either sing in our choir or play an instrument in our orchestra. High school students can participate in our honors choir or orchestra. Students share what they have learned through our annual Christmas Concert in December and our Spring Music and Arts Festival in the Spring.
Our art students study and imitate the works of the great masters using a variety of media.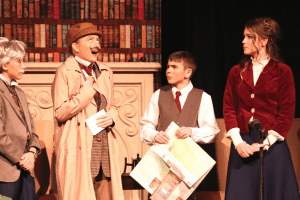 Recent plays performed by our school of logic and our school of rhetoric drama teams include The Importance of Being Earnest, Sherlock Holmes, MacBeth, and The Mousetrap. Our students' dramatic, rhetorical, and persuasive abilities come together on our Mock Trial teams, who have qualified for state each of the past 10 years. Students' technical and story-telling abilities come together in our media and yearbook courses.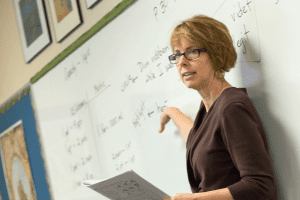 Ambrose students study Latin starting in 3rd grade using story-based and spoken Latin resources. In the upper school, students continue story-based Latin learning and speaking through Lingua Latin and Latin novellas. 10th grade students read Scripture and classical literature in Latin. By studying Latin, students gain deeper understanding of Roman culture and through access to great literature and thought in its original language.
For a detailed look at how our curriculum and methods guide students toward the goals of a graduate stated above, view our Curriculum Map.
Standardized Test Results
No standardized test can measure the whole-person formation that The Ambrose School seeks to provide your child.
While test results give only a snapshot of a child's abilities and strengths, students at The Ambrose School do well on standardized tests in comparison with both their public and private school counterparts.